In Memory
Jean Perritt (Nursery/Kindergarten Principal) (Barber) - Class Of 1974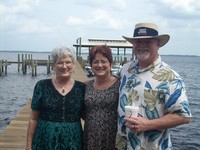 Jean Barber, resident of Diamondhead, MS and formerly of Palatka, FL passed away peacefully in her home Tuesday, March 15th with her family at her side.
Born in 1936 in Meridian, MS, Jean married Earl Perritt of Pace, FL, a union that lasted 17 years and produced her two loving children.
Jean was initially a teacher, then the Principal of the Kindergarten and Nursery school at Trinity Christian Academy in Jacksonville, Fl before retiring and relocating to the Palatka, FL area, where she met and married Frank P. Barber Jr.
No matter where she was living at the time, Jean was always active in her church and community, being quick to share her contagious smile, sense of humor, and warm laugh. It was frequently said Jean possessed the "sweetest spirit anyone has ever known".
Jean is survived by her children Ronald S. Perritt (Rosalyn) of Diamondhead, MS and Cynthia Dianne Perritt of Palatka, FL; four grandchildren: Jennifer Wirtjes (Steve) of Davenport, IA, Sabrina McNichol (Joe) of Marquette, MI, Rachel Norfleet (Chris) of Yulee, FL, Rebekah Knight (Brian) of Vancleave, MS; seven great-grandchildren, and numerous other family and friends who loved her.
In lieu of flowers the family requests memorial contributions be made to Shoreline Park Baptist Church in support of the music ministry.